About Dr. Bortz...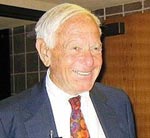 Walter M. Bortz II, M.D., is a Clinical Associate Professor of Medicine at Stanford University School of Medicine and a graduate of Williams College and the University of Pennsylvania School of Medicine. Recognized as one of America's most distinguished scientific experts on aging and longevity. Dr. Walter Bortz's research has focused on the importance of physical exercise in the promotion of robust aging. Dr. Bortz has published over 130 medical articles and authored numerous books, including We Live Too Short and Die Too Long, Dare to Be 100, and Living Longer for Dummies, and Diabetes Danger. (See the
Longevity Library
and the
Store
for more information. Dr. Bortz is past co-chairman of the American Medical Association's Task Force on Aging, former President of The American Geriatric Society and is currently Chairman of the Medical Advisory Board for the Diabetes Research and Wellness Foundation, as well as a Senior Advisor to Healthy Silicon Valley, a community collaborative effort which addresses the soaring incidence of obesity and diabetes.
To contact Dr. Walter Bortz:

1-650-854-2273
"As a pediatrician, I admit I was not looking forward to Dr. Bortz's lectures. Boy was I wrong for thinking that way! I never realized what pediatrics and geriatrics have in common. His talks have changed how I will approach my patients and also I will make changes in my personal life. In addition, I can't wait to check out his books and the article on neuroanatomy. Thank you so much a life-changing opportunity. –Sarah Lester, MD" "Dr. Bortz's talks were the most inspiring talks I have ever attended. –David Leslie, MD" "I will always remember Dr. Bortz. –Lann Salyard, MD"